This week rather than a Tuesday Tunes post I am rejoining the Top 5 Tuesday link-up hosted by
Rachel of Just Peachy
. I loved this series and am excited for its return this week.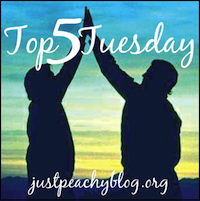 A walk to remember
This is one of the first romantic movies I remember loving. It started my love for Nicholas Sparks novels and Shane West.
Pride & Prejudice
I love all the different adaptations of this novel. though I think my favorite is the feature length film. It captures the essence of the film without getting lost in the period details and it has a great cast. While most women love Darcy I have always thought the more romantic story was that of Jane and Mr. Bingley.
27 dresses
This is the perfect lighthearted romantic comedy. I love most of Katherine Hiegl's movies but this has to be my favorite. I tend to be a sucker for romantic comedies that have to do with weddings and this is no exception.
Valentines Day
I love movies with a bunch of separate story lines that are still connected. I especially love how many well known actors are in this movies (besides T Swift she was not good in this movie). I especially love the stories with Julia Roberts and Bradley Cooper.
Sex and the City
I never really watched the show (because it was a little inappropriate for my age group when it came). But I love watching this movie. I like how the stories make sense without needing to know the whole backstory. It also includes some great fashion and a makeover scene.
What are Your Favorite Romantic Movies?